You're a superstar, you work hard, and you're in control of the rest of your life, but the one thing you just can't seem to get a handle on is your gut.
You soldier on, but inside you're dealing with totally unpredictable bloating, discomfort, toilet troubles and general feelings of 'blah' that get in the way of you living that life of yours.
You're feeling like:
You love going out with friends, but it's become a stress rather than a joy because you worry about every morsel of food and whether your gut will let you enjoy it.

You love to travel but don't plan trips because you're terrified of being too far from a bathroom!

You're tired and fed up of feeling so alone. Doctors, nutritionists, even your family, don't take you seriously and keep telling you 'you look fine.'

No matter how many 'healthy' things you do for your body (green smoothies, spin classes..how healthy can you get?!), you still feel terrible.

You're frustrated because you've spent so much time trying to make yourself better..probiotics, supplements, yoga, doctors, nutritionists, cutting out gluten or wheat..but still have no answers.
You're trying all the things, but you can't figure it out. You still have no idea what's causing all these problems in your gut! You just want to feel like YOU control your gut, rather than the other way around.
The thing is, you can't do everything. Sometimes you just need someone to swoop in and help you out...
I was in your exact position..fed up, frustrated and uncomfortable, thinking I'd be at the mercy of my gut for the rest of my life.
I know how it feels to be asked by your doctor if you're 7 months pregnant (true story), to have to wear your 'bad day' dresses on most days and to be in the doghouse with your boyfriend because you felt so bad you just couldn't handle dinner with his family.
But here's the good news... I FIGURED IT OUT.
I worked out what was causing my symptoms and how to make myself feel better, and I TOOK CONTROL OF MY GUT.
One Saturday, I was lying on the sofa, crying, and I'd just cancelled my plans for the evening. All I'd done was go for brunch with my friends. I'd had a super healthy meal, but I felt SO bloated and uncomfortable that all I could do was lie on the sofa. Having to get dressed and go out for drinks seemed unbearable...and this wasn't the first time this had happened.
That's when I finally decided enough was enough. I didn't want this to be my life any more.
I believe that none of us should be living at the mercy of our gut, and we don't have to.
I took control of my gut, and started this business to help you do that too.
Screw spending time and brain power that you don't have trying to figure this out. You can get the RESOURCES, the PROCESS and the SUPPORT you need to feel better.
Work out what's triggering your symptoms, so you've got the power to avoid those things (through the Low FODMAP Diet)
Make gut nourishing nutrition + lifestyle tweaks that will actually work for you
Do all of this whilst still eating healthy food, so you can maintain that happy gut
Fit these changes into your life so you can eat out, travel and LIVE YOUR LIFE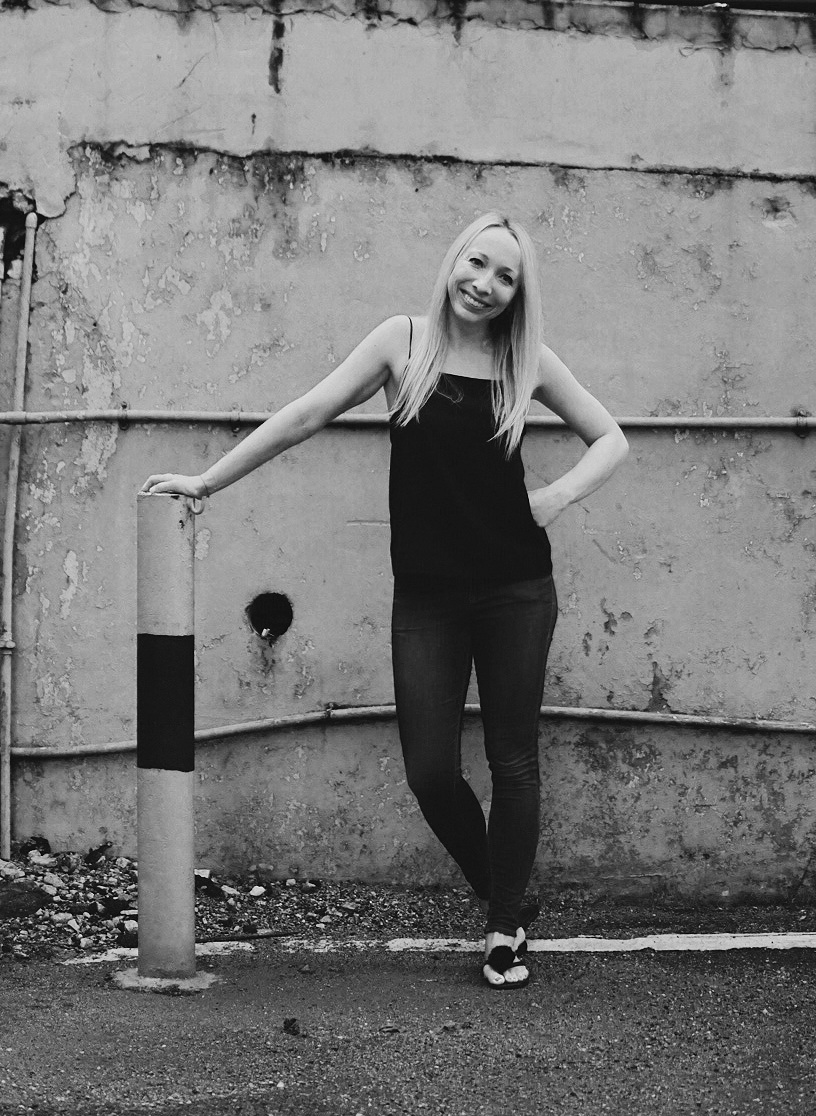 I struggled with digestive problems for over 15 years, with no answers.
Nobody understood and just thought I was being dramatic. Doctor after doctor just told me to exercise and eat more veg...but, I did exercise (5 days a week) and I ate a tonne of veg. I was so 'healthy' so why did I look 7 months' pregnant?!
It wasn't until last year that I was FINALLY diagnosed with IBS (by the doctor who asked how pregnant I was..). He wrote down 'Low FODMAP Diet' on a post it and sent me on my way.
On the one hand, I was relieved to have a diagnosis, but I had no idea what to do next!
I saw a dietician, but she knew less about the diet than I did. I Googled it, but couldn't find much trustworthy information. I was totally overwhelmed and almost gave up…
…BUT I DIDN'T. I KNEW IF I WANTED TO GET A HANDLE ON MY IBS I'D HAVE TO TAKE IT UPON MYSELF TO WORK OUT WHAT TO DO.
So, here's what I did…
Became certified in the low FODMAP Diet, with Monash University, the creators of the diet (i.e. I got the CORRECT info..I was sick of all the conflicting advice on the internet)

Made a 14 week plan to complete the diet (i.e. I had a PROCESS to follow)

Studied with the Institute of Integrative Nutrition to become a certified health coach (i.e. learnt how to nourish my gut + eat healthy + SUPPORT you to do the same)

Felt AMAZING
With this, I put together my process to help others feel COMFORTABLE, IN CONTROL and CONFIDENT to make plans, socialise, travel and eat out…you know, to LIVE YOUR LIFE...without having to spend hours and hours working out what to do.
YOU DESERVE A LIFE WHERE YOU FEEL…
Excited to meet friends for dinner because you know what foods you can enjoy

Comfortable because you're no longer suffering in silence with all of those symptoms

Energised because you're eating a healthy diet that nourishes your gut and makes you feel great

Relieved that you've figured it out...you know what causes your symptoms so you can choose to avoid those things. You know what makes your gut feel great, so you can choose to say 'yes' to those things
WE CAN GET YOU THERE.

If you've read this far and want to know more about me, here's a few things I love (other than gut health)..
BEING WARM - I moved to Malaysia last year, from London, and I LOVE being warm every single day. My boyfriend's happy because apparently I'm grumpy when I'm cold.
TRAVELLING - In the last year I've been to Myanmar, Thailand, the Maldives, Singapore, Sri Lanka, India, Italy, Portugal, Taiwan..and the list goes on. You'd think all of this would've made me a super savvy traveller, but I recently managed to completely forget to apply for a visa for Myanmar and wasn't allowed to board my plane..oops.
RUNNING - I ran the Paris Marathon a few years ago, which I'd recommend to anyone who wants to eat an entire cheeseboard without it even touching the sides.
MINIMAL COOKING - I never feel like I have time for it and, being a perfectionist, it stresses me out because I don't want to mess it up. If I won the lottery, I'd hire a personal chef so I'd never have to worry about cooking again. I should probably start playing, shouldn't I?!
You're ready to take control of that IBS of yours, in a way that fits in with your life, so let's talk.
This is the first step towards feeling more COMFORTABLE, IN CONTROL and CONFIDENT.
Find out how I can help you to finally get some more control over your gut.
In case you're interested, here are my credentials:
Certified Integrative Nutrition Health Coach - The Institute for Integrative Nutrition
Certified Gut Health Specialist - The Institute for Integrative Nutrition
Certified in the Low FODMAP diet - Monash University